Who's ready to talk about conferences?! I am not expert on conferences, at all, but I have a couple tips and a couple of ideas of things I have done that have worked for me. I will also share some FREE resources I have for you!!!!
My Conferences Info:
–We do conferences for 20 minutes each, with 5 minutes in between.
–We always do conferences in November and we only do them once a year.
–The only other time we formally meet with parents is during IEP meetings.
–Last year my conferences were virtualy, and we are doing the same this year!
–I have 3 years of pre-k special ed conferences experience and 1 year of 2nd grade conferences experience. This will be my 2nd year doing 2nd grade conferences.
Tips:
–We use Sign Up Genius for parents to sign up for conferences. It is the best thing I ever did. Typically, at our back to school night we have parents sign up on a piece of paper and then whoever is not there, or if there's conflicts, we have to figure it out after via email. It's always a hassle. On the Sign Up Genius, once a parent signs up for a time slot another parent can't steal that slot. It's not like a Google Doc where someone can steal someone's slot. We just emailed families that didn't sign up right away with a reminder. I was able to make a free account on Sign Up Genius and it was super easy to figure out. If I didn't know what to do for a step of setup, I just googled it but definitely recommend sign up genius.

–Have notes planned ahead of time. I have a freebie in my TPT store that is a compilation of conference note pages I have used in the past. Prep notes ahead of time so that you are ready with what you want to say. This year, I added a new notes FREEBIE to my free resource library. These notes pages, pictured below, will help guide our discussions during conferences.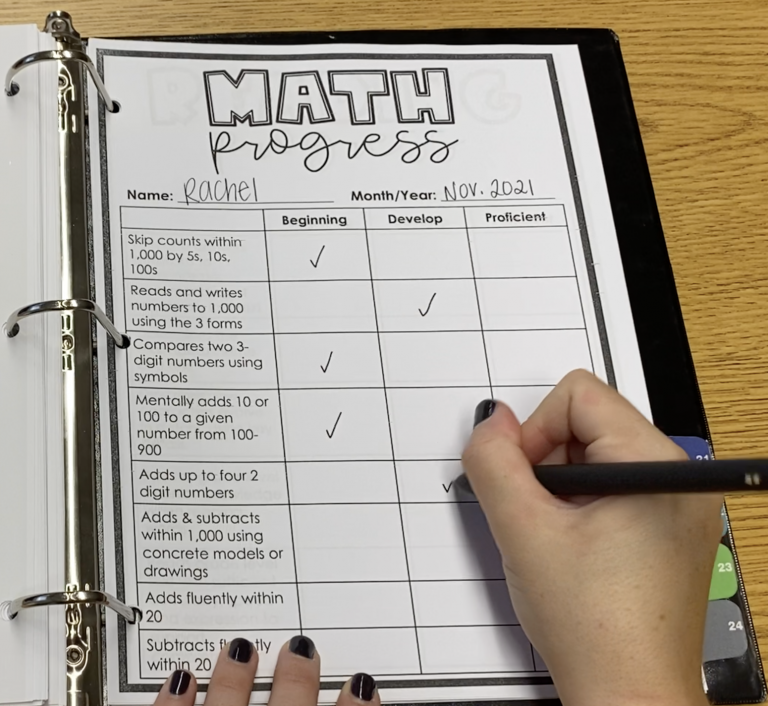 –Send home a questionnaire ahead of time so you know what the parents want to talk about ahead of time. This will give you time to prepare to answer their questions and concerns. I have a questionnaire included in that conferences freebie. You might want to do this virtually. You can always drag this PowerPoint into Google and save it as a Google slides.

–Outside of my room I always had water bottles with a cute sign that said, "families like you are REFRESHING" (free in my google drive folder). I also had helping hands. I would put possible donation items on hands cut-outs. I had a sign with them that said, "please lend a helping hand". This is also free in my google drive folder.

–During conferences ask parents what supports they might need at home as far as physical materials as well. Do they need a token board, sticker chart, social story, first/then board, visual schedule, etc.

–Always give families something to walk away with. I created a "How to help at home" handout that I would give to my Pre-K families. This is also a freebie in my google drive folder.
Product in my TPT store for conferences:
In my TPT store I have an EDITABLE conferences pack that I would use during conferences. This includes editable schedules, reminders for families, signs for your door and sign-ins. The pack comes in bright colors to grab your attention! You can check out this resource by clicking on the product cover below.
FREEBIE in my TPT store for Conferences: 
Click on the product cover below to view the FREEBIE I referenced above.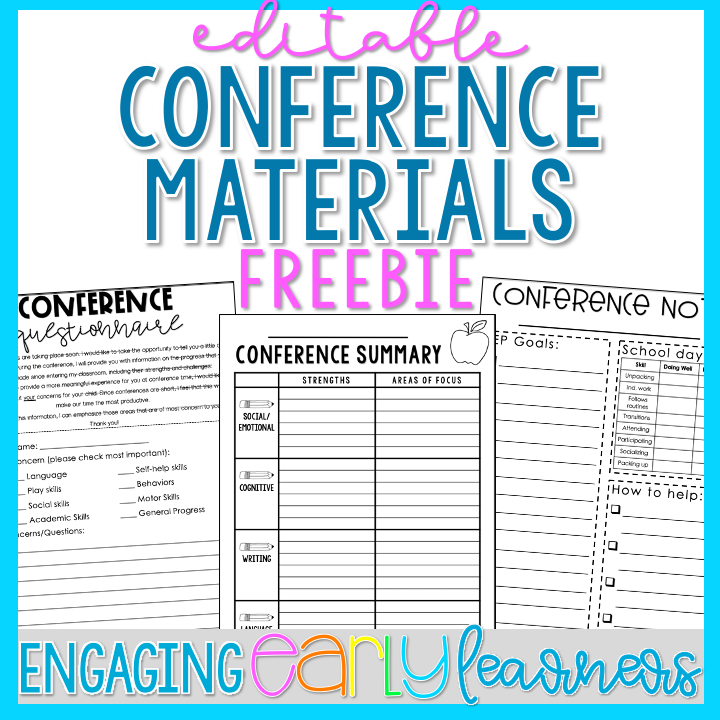 Water bottle sign
Helping Hands sign
How to Help at Home handout
Editable presentation to present during conferences
Editable progress notes pages
How to Gain Access to my FREE RESOURCE LIBRARY?
Sign up using this link: CLICK HERE
Once you sign up using the link above, save the link to the google drive folder that you get in your inbox so you don't have to keep signing up.
**Check your spam or trash folder if you don't get the link in your inbox**
I hope this was all helpful! If you use any of the above tips or resources PLEASE share with me or tag me using @engagingearlylearners