So, what is the difference between BOOM Cards and Interactive PDFs??!!
I am here to tell you!!
BOOM CARDS + INTERACTIVE PDFs
NO PRINT
NO PREP
ENGAGING
FUN
Use on any device 
Easy to share on distance learning platforms
BOOM Cards
How do I download or access these materials?
When you purchase this resource, you'll receive a PDF download. Inside the PDF you will find directions and a link to click. You'll click the link to add the deck (task cards) to your Boom Library.
TO USE:
Make sure you have internet access
You can open this link in any browser or the app that is available in the app store
Click on this link to view the FAQ page on boom:https://boomlearning.freshdesk.com/support/home
Please do not share this link with other educators
You may share the link to the boom deck with your student's and their families. Here is how to do that:https://boomlearning.freshdesk.com/support/solutions/folders/16000094500
MORE INFO:
When a student is incorrect, an 'X' goes through what they clicked on
To use Boom Cards, you must be connected to the Internet. Boom Cards play on modern browsers (Chrome, Safari, Firefox, and Edge). Apps are available for Android, iPads, iPhones, and Kindle Fires. For security and privacy, adults must have a Boom Learning account to use and assign Boom Cards. 
You will be able to assign the Boom Cards you are buying with "Fast Pins," (play provides instant feedback for self-grading Boom Cards). Fast Play is always a free way for students to engage with Boom Cards decks. 
For additional assignment options you'll need a premium account. If you are new to Boom Learning, you will be offered a free trial of our premium account. Read here for details: http://bit.ly/BoomTrial.
You may be eligible for a free trial from Boom Learning. Read here for details: http://bit.ly/BoomTrial. If you choose not to stay on a premium account after your free trial, you will still be able to assign all your Boom Cards to as many students as you see fit using Fast Play pins (which give instant feedback for decks that are self-grading).
Click on this link to view the FAQ page on boom: https://boomlearning.freshdesk.com/support/home
BOOM Cards in my store
INTERACTIVE PDFs:
Use on any device
Can't advance until the student is correct
**Interactive PDFs DO NOT HAVE SOUND**
HOW DO I GET THEM ON MY COMPUTER?
Mac: Open PDF (should open in 'preview') and you can start
PC: open in Adobe Acrobat Reader DC (free) or any PDF reader
Can be used on your computer that connects to your SmartBoard so you can use these in whole group lessons
HOW DO I GET THEM ON MY TABLET?
Get the google drive app AND the iBooksapp
Upload the PDF to your google drive
When you see the file in your google drive, click the 3 dots
Click, 'open in'
Select iBooks
The file will show up in iBooks
Open in iBooks and BEGIN 🙂
Interactive PDFS in my store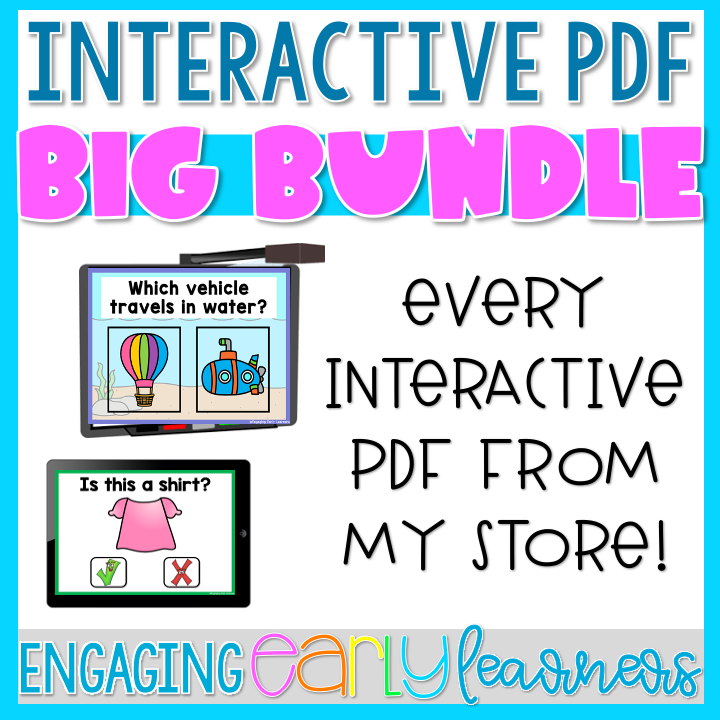 I hope this was helpful for you! I used both during distance learning and my students loved them. I hope your students love them too.