Welcome back to my blog! In this post I am going to share how I organize all of my Creative Curriculum materials. I get asked about this a lot when I post on my Instagram stories so I thought that this would be a good place for me to explain it all in detail and add some pictures for you! I will also provide links if I reference anything that I use from my TPT store, somebody else's TPT store or that I have purchased for my classroom. If I purchased from Amazon you will be brought to my Amazon Store. Click on 'Classroom Organization' to find everything I reference.
I hope this helps some of you!
Background
Our supervisor provided us with 10 Creative Curriculum Studies when the district switched to the Creative Curriculum. We have the following studies; Beginning of the Year, Boxes, Clothes, Buildings, Trees, Bread, Pets, Reduce Reuse Recycle, Roads and Balls (we only use during ESY if needed). The Pre-K team decided a few years ago to make an 'A' and 'B' year with the studies. We did this because there are too many studies to fit into a year and we have so many students that are with us for 2 years, so this way they get something different each year.  
A year: Beginning of the Year, Boxes, Clothes, Buildings, Trees
B year: Beginning of the Year, Trees, Bread, Pets, Reduce Reuse Recycle, Roads
File Boxes
I store most of my materials for each study in a clear file box. There are 2 different file boxes, one for Year A and one for Year B. I keep the guides for each study in a book bin in between the 2 file boxes so that they are close by.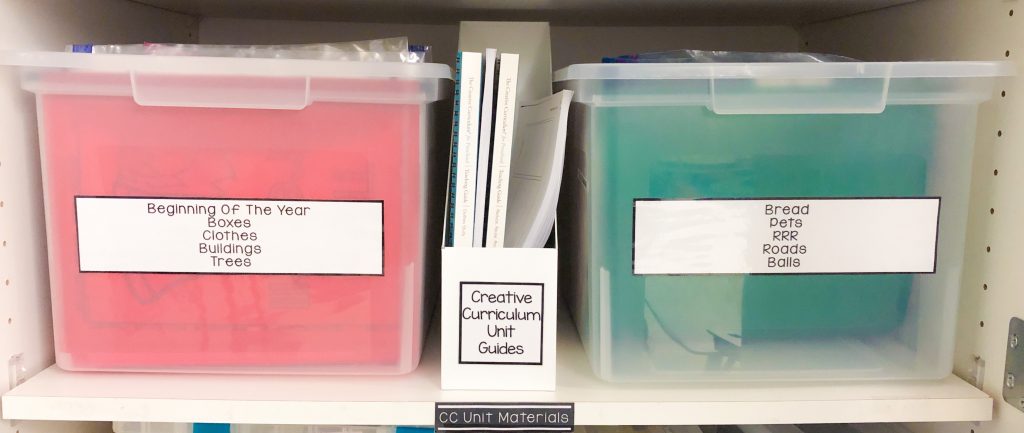 For each study I have an expandable hanging file. I use manila folders for all of the materials inside of the colored expandable hanging files. I use labels that I made for each of the manila folders. There is a nicer version of these labels in my TPT store. They include pictures on each label that indicate the unit. They are also editable so you can add whatever labels you want, if the ones I provided aren't enough.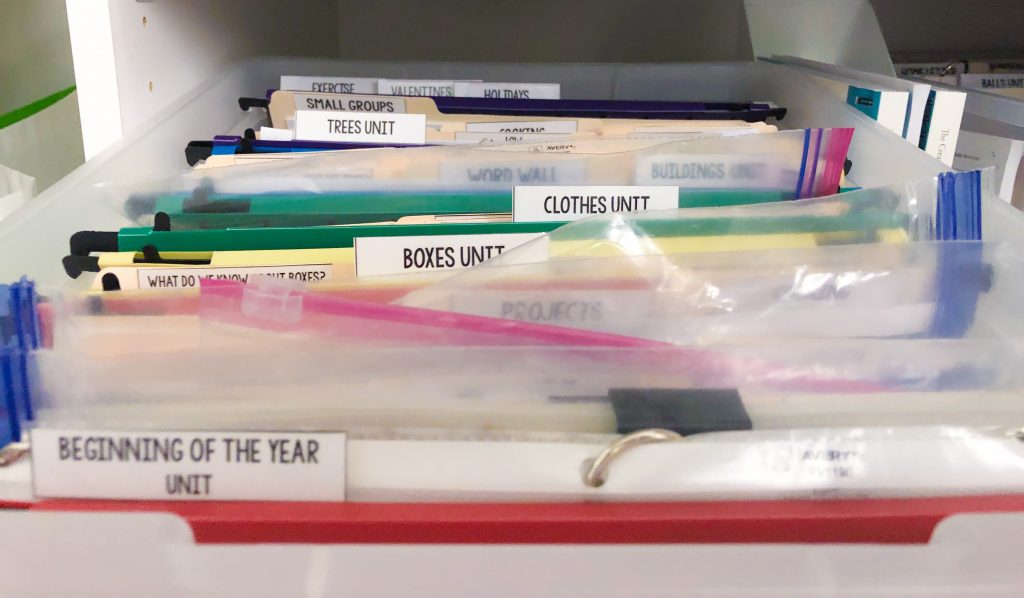 Manila Folders
Each of the following have their own manila folder for each study:
Word wall words: I buy on TPT or make myself (can't post on TPT because I mostly use google images to make life easier)
Theme/focus question posters: in my TPT store
Each focus question: this is where I store anything specific to that focus question
Seat work materials: these are worksheets we do during morning work (see 'My Schedule' blog post for more information on this)
Projects: I store projects in gallon Ziploc baggies
Cooking: printed examples of our cooking projects to reuse in the future (see my Instagram story highlight 'cooking activities' for some examples)
Small Group Materials
I store all of my small group activities for each study in these clear bins with blue clips. They fit the clear envelopes that I use to store each activity very nicely. I use my mini eraser labels to label the envelopes. There is a clear pocket on each of the envelopes that fits the label perfectly. 
Anchor Charts
All of the anchor charts for each study are stored in my classroom closet on hooks. I use binder rings to keep all of the charts for each study together and then I hang the rings on the hooks. I use TwoPeasInAPrimaryPod anchor charts for each focus question. Check out my Modifying the Creative Curriculum blog post for more information on how I make the Creative Curriculum work for my students.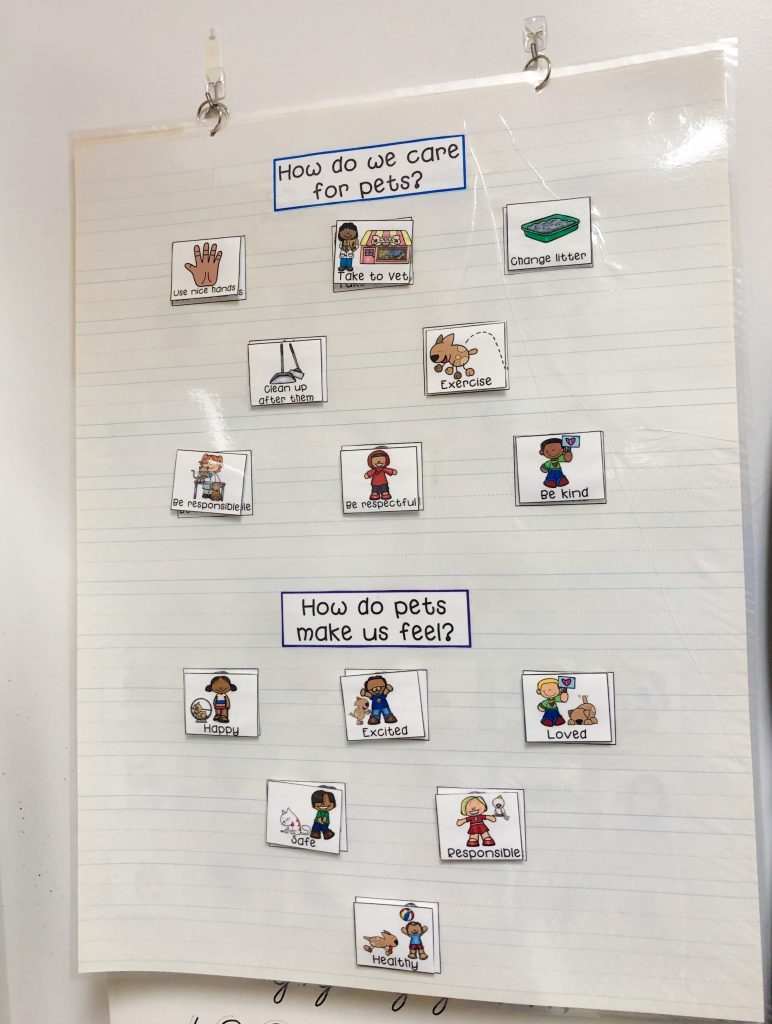 Curriculum Books
I store all of the books from the Creative Curriculum in a crate. Each study has its own hanging file and label and I put all of the books in there. This crate stays in my classroom closet. During a study I pull out all of the books I will need and put them on my "Books we're reading" display.  This display is a mixture of Creative Curriculum books and books I find that go along with the study. The magnetic shelves are an amazing addition to my classroom! 
I hope this helps some of you get organized! This method works for me and I understand it does not work for everyone. I also took a lot of time to do all of this over the past 2 years. It took a lot of trial and error, but now that I have this system in place, it makes life much easier! Happy organizing!