Since I have showed you how to use an OSMO in my Instagram highlights and my last blog post, I thought it would be helpful to show you some examples of how I used my Osmo during distance learning. These pictures are screenshots from my Instagram story highlights from the past few months.
If you want to see me using the OSMO during a small group, head to my Instagram posts OR my OSMO & distance learning story highlights. 


Directed Drawings
These are drawings I either found for FREE on TPT/Pinterest/Google or that I came up with myself. My students LOVE these. I go step by step and show them how to draw the picture, while they follow along at home. Since we would do these at school, they know that I do a step first while they watch, then they go! I always remember to tell parents that these will not come out perfect, mine doesn't even come out perfect. They will each be unique and special. I tell them to please let their child do it how they want unless they ASK for or need help.
Task Boxes
Of course, all of my task boxes come from Michaela aka Especially Education aka Task Box Queen . I probably own every single task box bundle in her TPT store. I don't print them all though. At the beginning of each school year, and throughout the year, I go through each bundle and print the ones that I KNOW will fit my students. Since each year is so different, I have probably printed them all by now 🙂
You can find Especially Education…
–> On Instagram
–> On her Blog
–> On TPT
File Folders
Of course this file folder comes from a Made For Me Math unit: Colors! As soon as Michaela and Gabrielle (Teaching Special Thinkers) released Made For Me Math last year I purchased it. I knew they were both creative geniuses and I needed more academic, fun, easy-prep activities for my small groups! Michaela and Gabrielle also created Made For Me Literacy, which I used in my classroom. I highly recommend both!!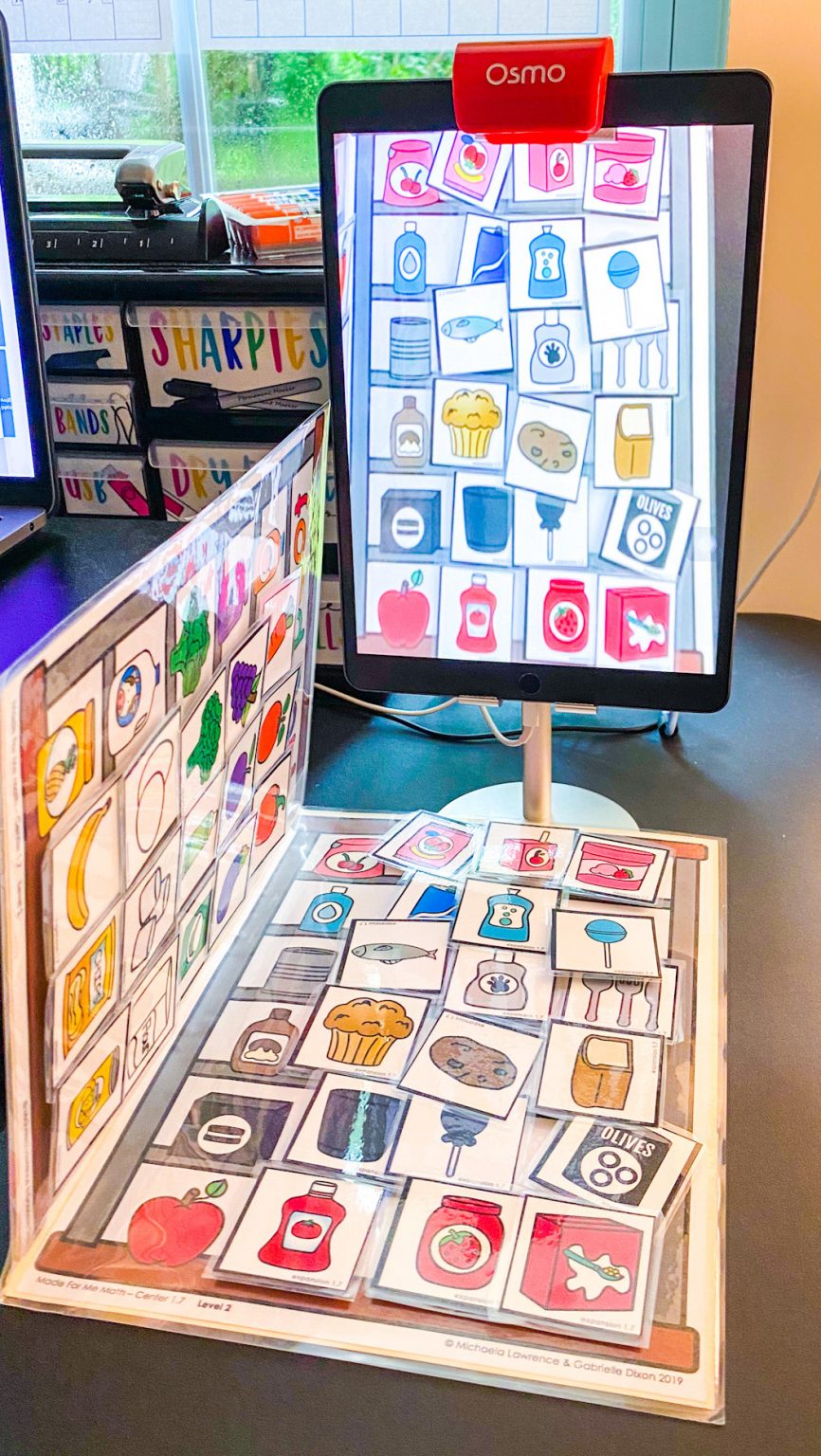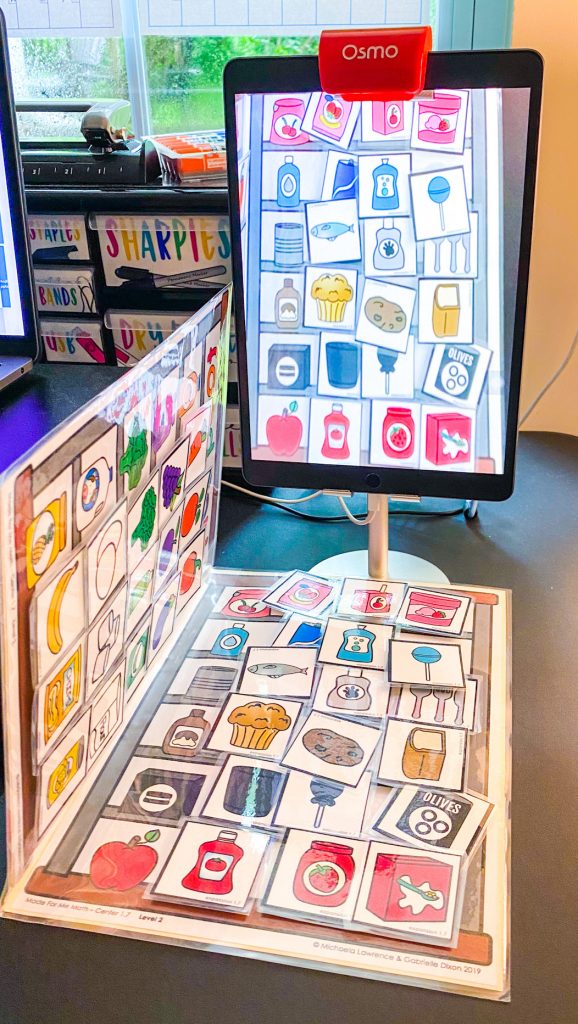 Sorting
This activity also comes from a Made For Me Math unit: comparing numbers to 10. Since I was using the OSMO I did not do this activity with a pocket chart as it was intended, we just made piles of 'more' and 'less'.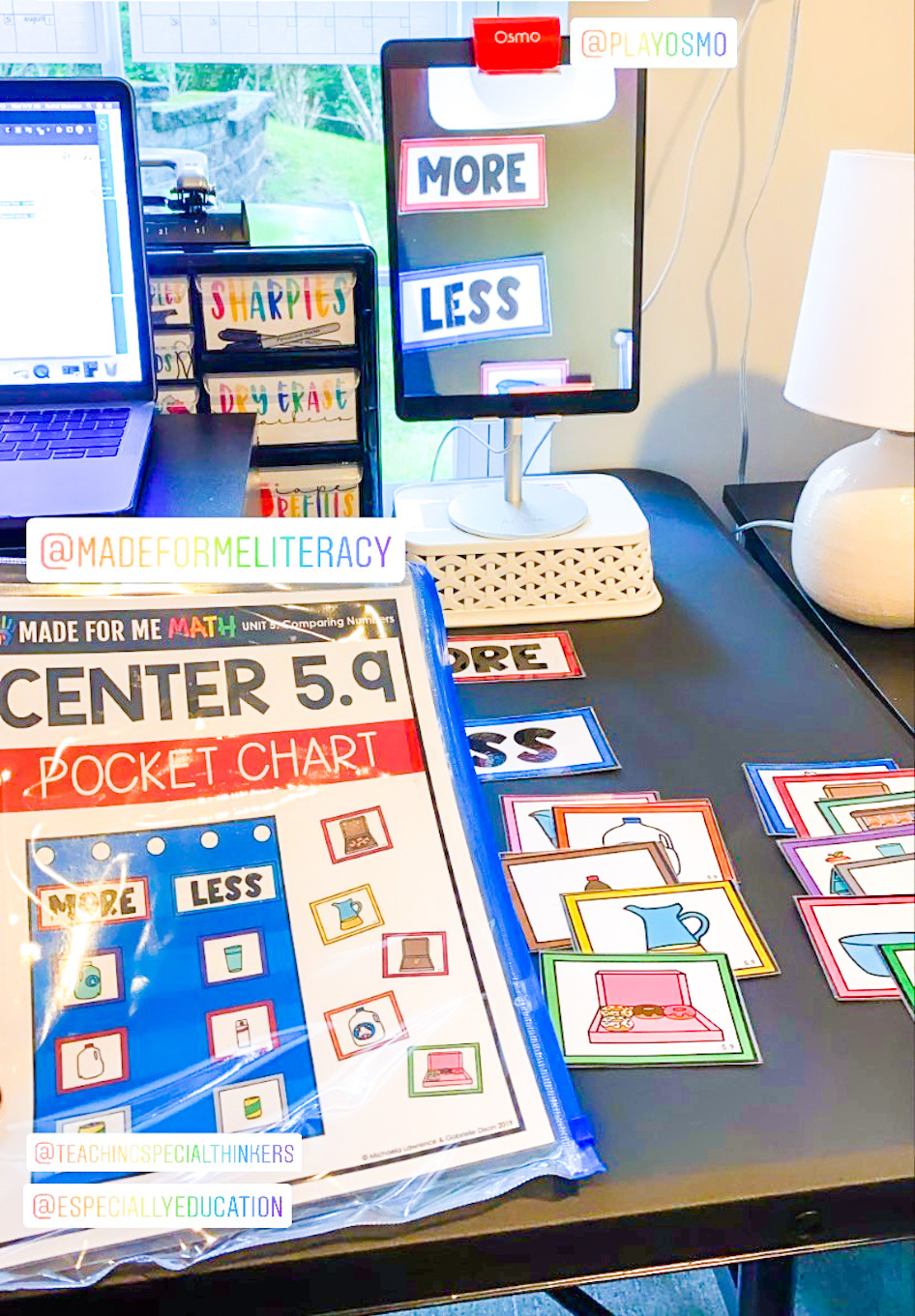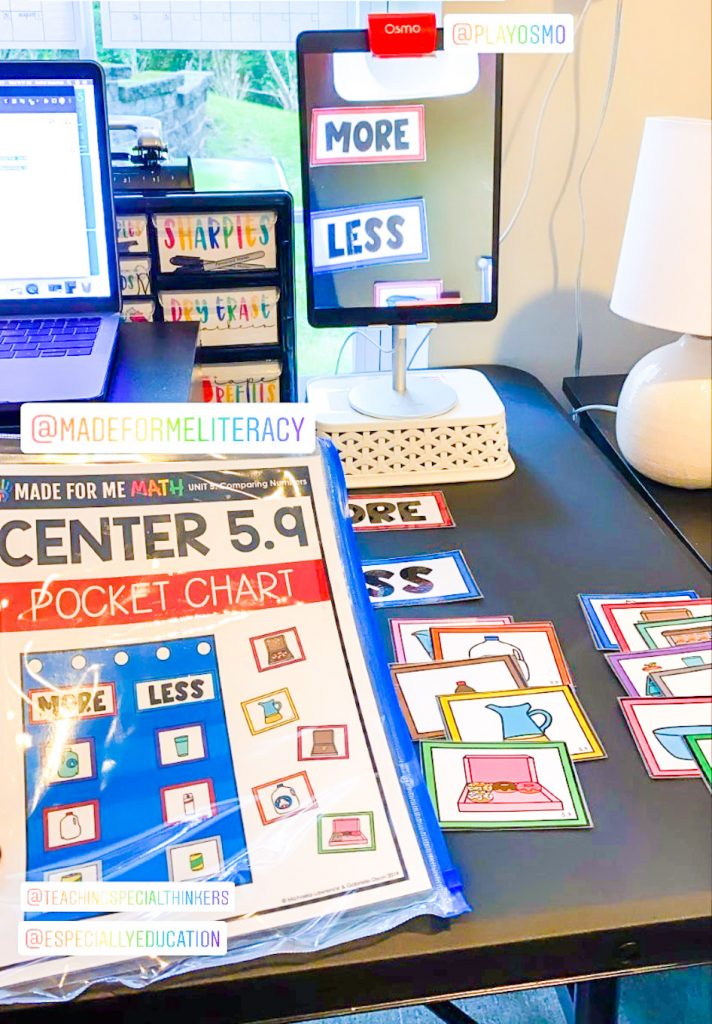 Patterns
OF COURSE this activity also comes from a Made for Me Math unit: patterns and positional words.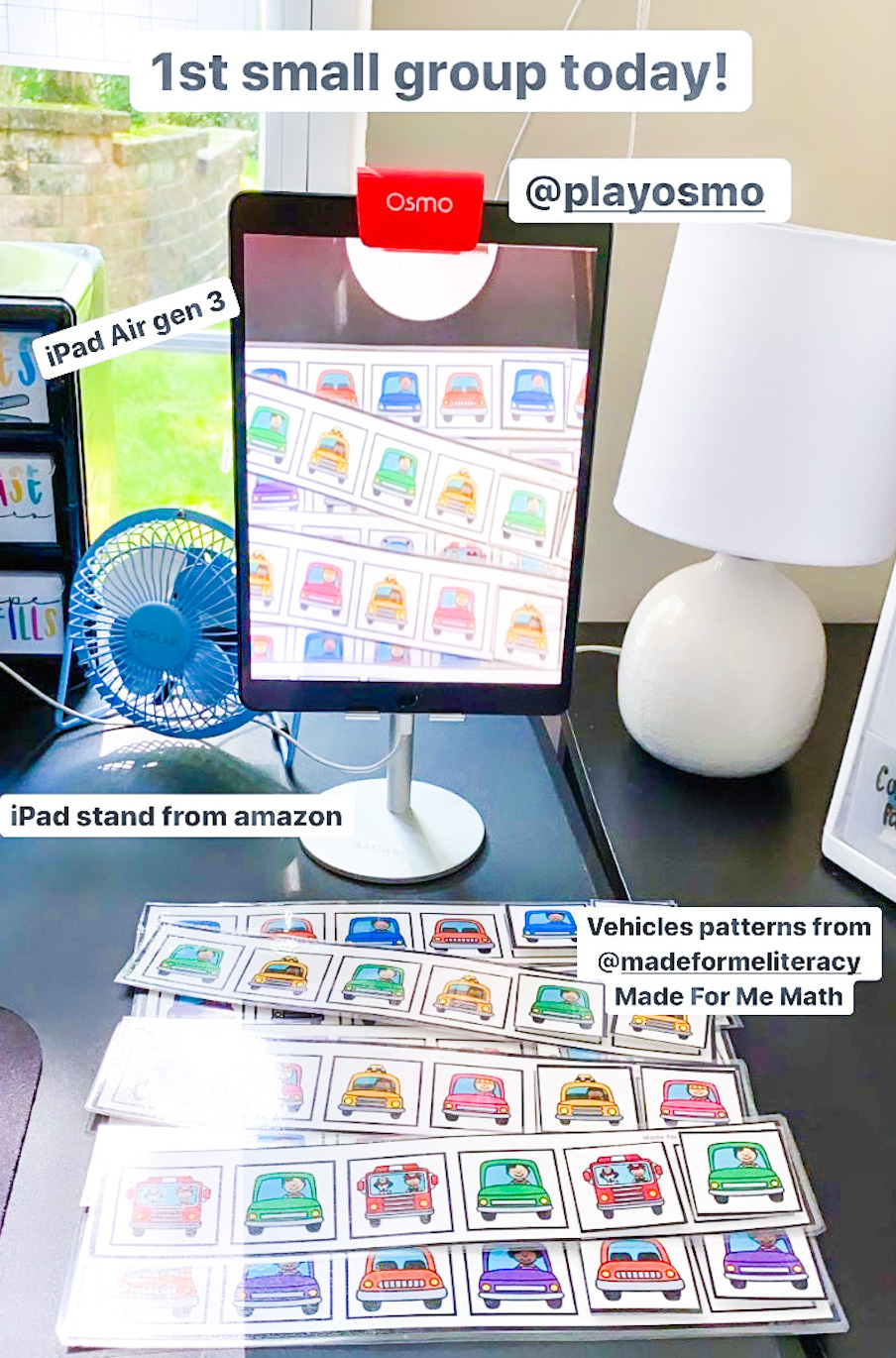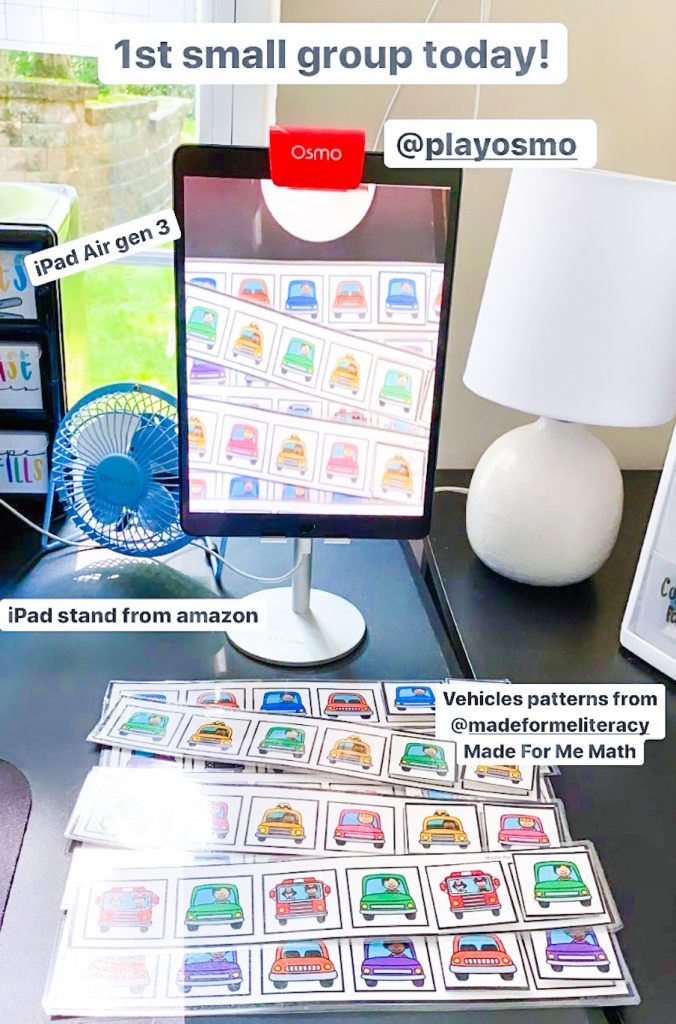 Coloring Books
I purchased this coloring book at Target right before ESY (Extended School Year) started. I was trying to think of activities to engage my students since I was now able to use the OSMO. Since I had a few students just working on colors, I thought this would be perfect. Of course, they could not be the ones coloring. They had to request what color they wanted me to use, tell me what object they wanted me to color, and tell me when I should switch colors. This really focused on language skills, requesting and colors. They loved it!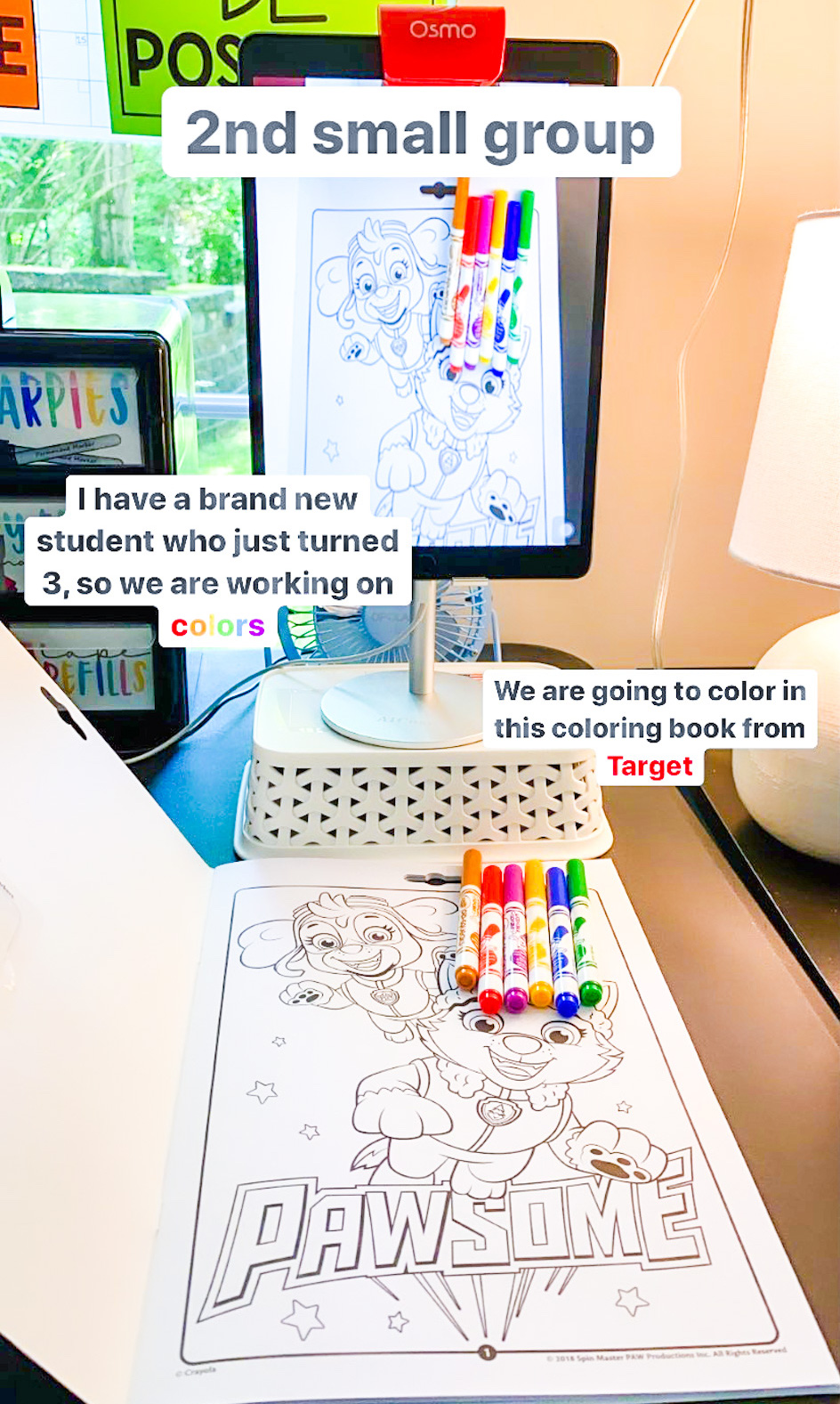 Mini Eraser Activities 
My students and love mini erasers, of course! So, I made a pack with a bunch of activities that we could do during distance learning! You can get these pages from my mini erasers pack in my TPT store.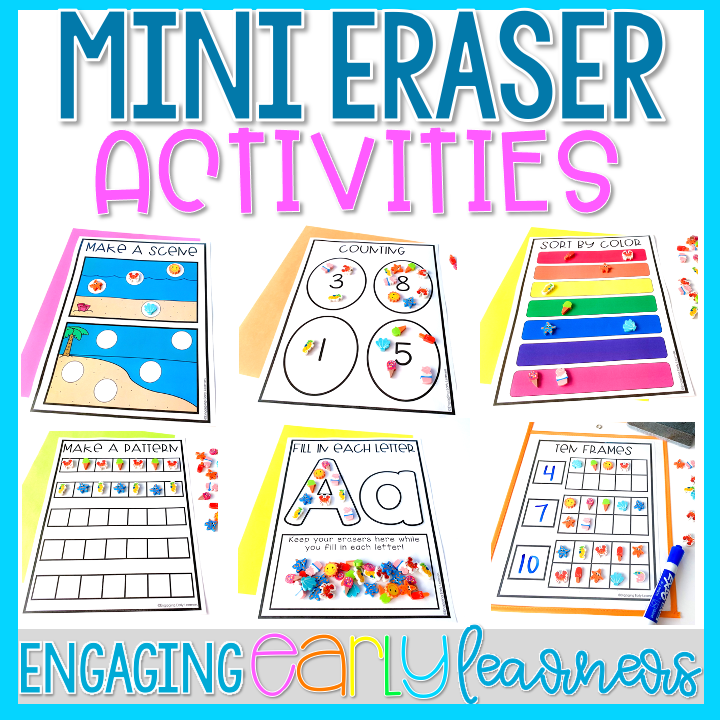 Read Alouds
In virtual sessions it is hard to hold up a book to the camera on your computer! Using your OSMO allows you to see your students on your computer screen, not have to position the book and your head in the camera, and your students can see the whole book clearly.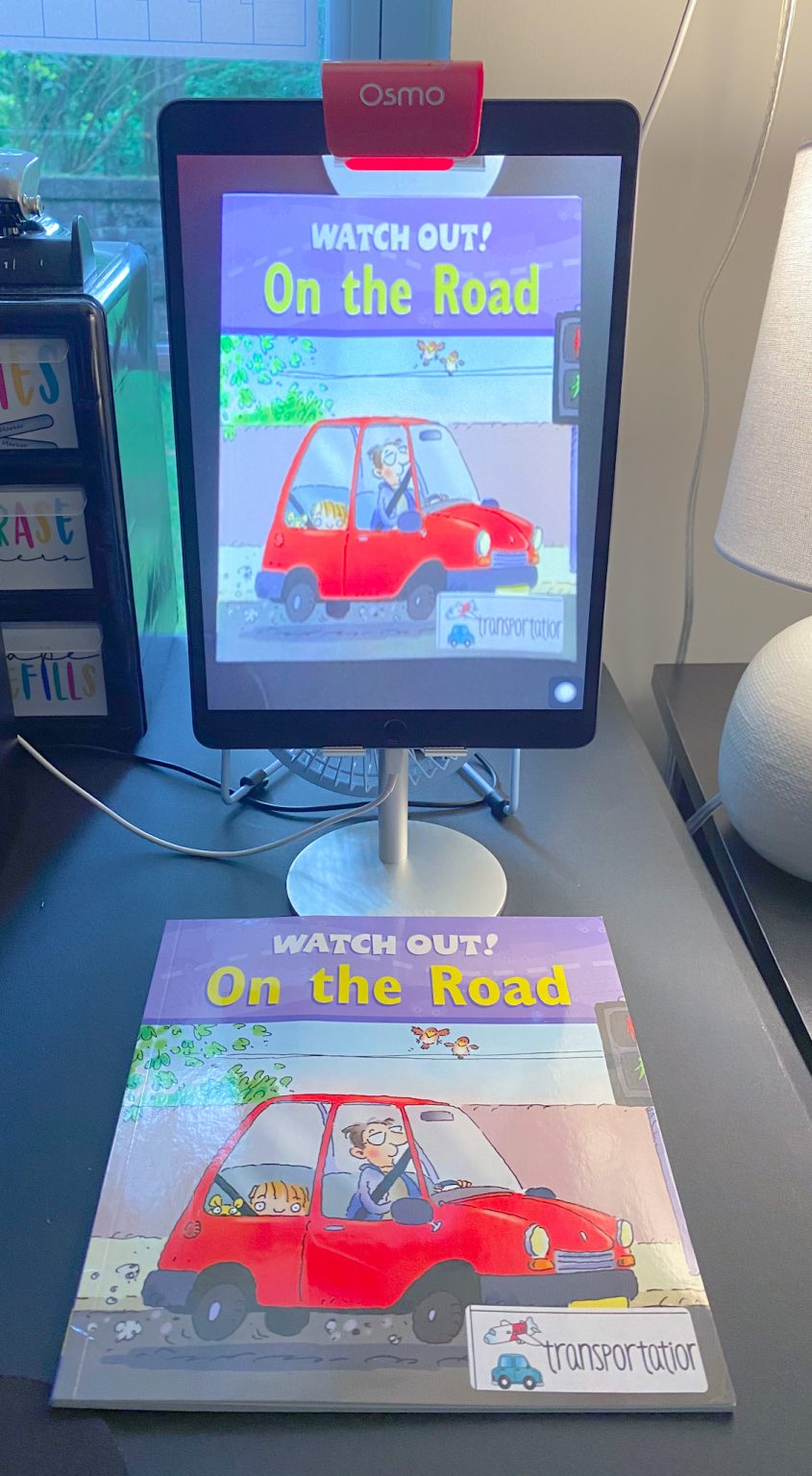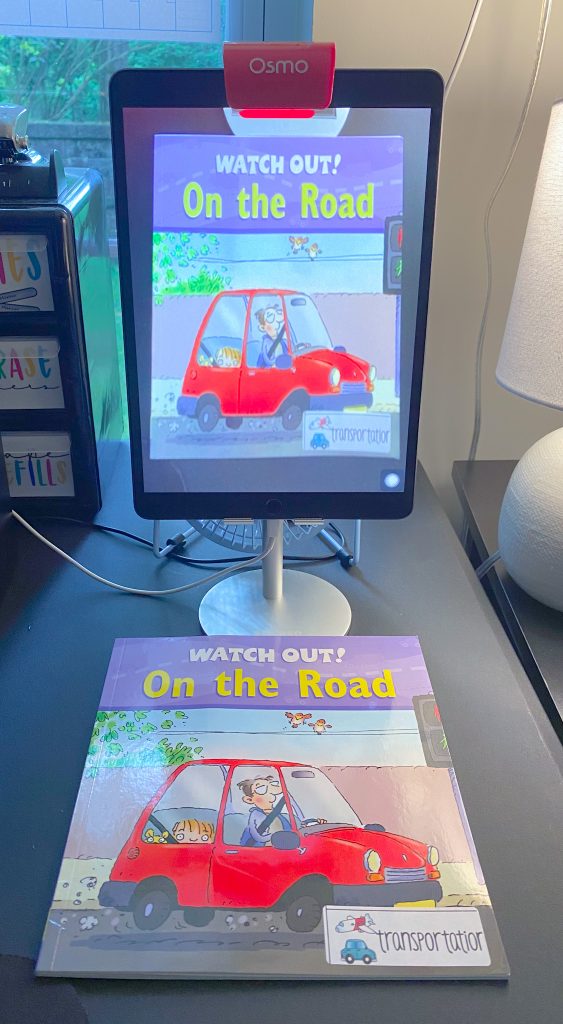 Cooking Activities
On our last day of ESY this summer we did a cooking project!! It was SOOO helpful to have the OSMO for this! We made a PB&J sandwich and a fruit kabob!
How Do I Do This With My Students That Are Non-Verbal?
At this time I do not have students that are non-verbal. Luckily, my friend Lucy from @thealternativewaytoprek does and she is an AAC device expert! Here is what she has about this:
"So Rachel is a genius and came up with using the OSMO for virtual learning. A lot of people have been asking "Can this work with my non-verbal students?" The answer is yes! Lets first get one thing clear. There is a difference between non-verbal and low cognition. Non-verbal students simply do not use expressive language to communicate. Instead they use receptive language. This can come in the form of AAC, PECS, or whatever visuals you may use. The best way to use the OSMO with non-verbal students is the same way you would teach in the classroom, modeling. Hopefully you have a similar device as your student's, core board, or visual. When you are teaching via the OSOMO you have your device, they have theirs,  and  you model. It is that simple. Now, if you are referring as to how to use the OSMO for students with low cognition that is whole another topic. Realistically, that is going to be tough. They are going to require an adult to prompt if not use hand over hand. I suggest making a video tutorial of yourself along with a written step by step guide on how parents can prompt their students. You can also make a video of how they can model their child's AAC device at home. " –Lucy @thealternativewaytoprek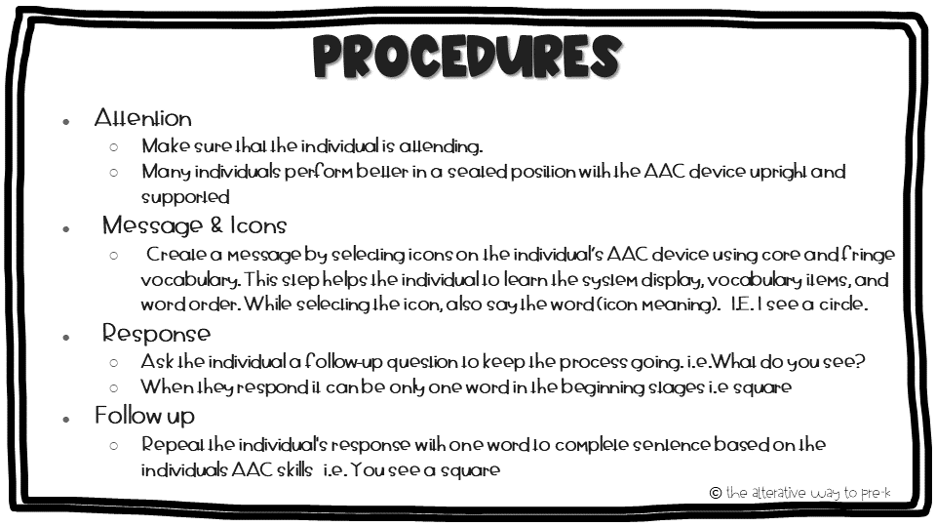 I hope that you found these activities and ideas helpful! As I think of more I will add them to this post. I would love to see how you use your OSMO for distance learning!! If you post, please tag me so I can see 🙂